On June 8th, 2018 at Amherst Central High School's annual awards assembly, the recipient of the Angela Coniglio Memorial Scholarship was Elizabeth Jacobia, an outstanding student who has challenged herself throughout high school with Advanced Placement, College Level and Honors classes. She has been on the High Honor Roll and is graduating with an Advanced Regents Diploma with Honors. She is in the National Honors Society and was selected to the NFHCA National Academic Squad as an All WNY Scholar-Athlete.
In addition to her building a strong academic foundation, Elizabeth has earned the respect of the entire faculty and her peers alike.
She is involved in, and contributed to both the school and community, through various clubs, activities and athletics throughout her four years, as a natural leader who has stepped up to each and every challenge. She is an Amherst Pathfinder, a mentor to younger students, assisting their transition to high school.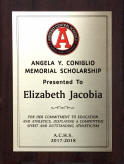 Elizabeth participated in the Italian Exchange Program as one of twelve local students to host a counterpart from Italy in 2017, then visited her host in Europe for three weeks in 2018. She participated in the ACHS Spanish Club, and also the Captain's Club, as a captain of the Field Hockey team, and interned after her sophomore year at the Erie County Medical Center.
She was in the ACHS 'DECA' program, learning leadership, Communication and business skills, and volunteered with the Ronald McDonald House and Rides for Roswell while holding down jobs at Wegmans and babysitting.
In addition to four years on the Field Hockey team as team MVP and Second Team All-WNY, she played Lacrosse as a Section VI finalist, and also played Softball. Her coaches are unanimous in their praise for her being an outstanding team member and leader, continually working to improve herself.
Elizabeth will major in Chemistry at Hobart and William Smith College, where she'll play Field Hockey. Her acceptance letter is in the Appendix
To see video of the award to Elizabeth, click here

Elizabeth & mom Michelle