When my parents Gaetano Coniglio and Rosa Alessi moved to Buffalo in 1921, they had four sons in tow: Gaetano (Guy Jr.), born in their home town of Serradifalco, Sicily; and Leonardo (Leonard), Felice (Phil), and Raimondo (Ray), born in Robertsdale, Pennsylvania. The family lived briefly in 'the Hooks' in Buffalo, in a tenement at 18 Peacock Street, where their first girl, Carmela (Millie) was born.
They didn't stay long in the Canal District, but in 1924 moved to a rented flat at 309 Myrtle Avenue on the East Side, across from the La Stella bleach factory. My sisters, the twins Concetta (Connie) and Maria (Mary) were born there, as was my brother Antonio (Tony). I came along in 1936, the only one to be born in a hospital, while our nation was in the midst of the Great Depression.
My father found work as a caretaker at Welcome Hall, the community center at Myrtle and Cedar, and as a bartender at the Magistrale family's saloon, Marconi's, but the pay was slim, and to augment the family's income, in summers the whole family would be loaded on a truck with other poor immigrant families, and be taken to Musacchio's farm, on Route 62, just outside the town of North Collins, New York.
There, we lived in a one-room "shack", with cooking and sleeping areas separated by sheets hung over wires spanning the room. We got our water in buckets from the community pump, and used a smelly outhouse (baccausu) when we could "hold it" no longer. We picked string beans, strawberries, and red and purple raspberries, depending on which crop was ripe. Before I was born, my eight siblings, mother and father worked the fields, and were paid 3 cents for each quart of berries picked. The kids picked about a hundred quarts a day, and my mother about a hundred-fifty, and my father, who came by Greyhound bus on weekends, also picked about a hundred-fifty a day. So on a good day, the family might earn about $33!
The number of Coniglio kids at the farm camp varied, as some would stay back for school or other reasons. For example, my brother Leonard ran away with the circus in 1930, depleting the 'crew' until he returned the following year; and in 1936, the family was a pair of hands short, as my brother Guy had married the year before and remained in Buffalo to work at a glass factory. And another mouth to feed came along in 1936, when I was born. As the youngest, I think I ate more berries than I picked, but some of my earliest memories are of "the farm", and the other families that I got to know there: the Sciortinos from Efner Street and the Pepes from Myrtle Avenue. Phil's friend Alphonse 'Foonzi' Pepe remembers that my father Gaetano loved to watch the camp's sandlot baseball games, in which Phil usually starred. We also met and were befriended by families from North Collins; the Fricanos, Elardos, Manuels, De Carlos, Di Ciccos; families from Valledolmo and especially the Volos, who also originated in Serradifalco.

Through the years of spending summers at North Collins, Phil and the other older boys became close with many of young local men, including Ray and Gabe Di Cicco, Lou Fricano, and Al Volo, and frequented the local 'gin mill', "Speedy's" on Route 62.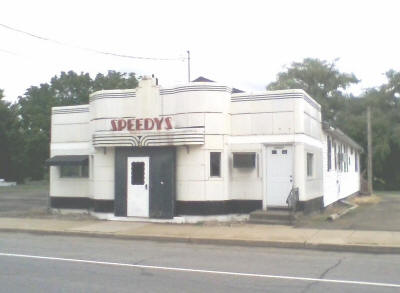 My sister Millie met and fell in love with Al Volo during one summer at 'the farm', and they eventually married and settled in North Collins. In our family's summer trips before they married, and in the years afterwards, I had befriended many of my future 'shirt-tail relatives', Al Volo's nieces Sandy Fricano and Serena Elardo, and his nephew Charlie Elardo and cousins Lew and Sonny Manuel. The latter three were about my age, and we spent many a summer evening prowling in nearby woods and catching fireflies in Bell jars.
My father is shown above, standing by the community water-well pump of Musacchio's farm camp. I recently learned from Sam and Ross Markello (Marchello) of North Collins that he was assigned the responsibility of removing the pump handle each day at sunset and replacing it the next day before sunrise, to prevent unauthorized use of water by the resident laborers. Because of this assignment, he was called "Marshu Tanu" (Master Gaetano). After years of scrimping and saving from our three-cents-a-quart labors, Gaetano was able to buy the first home the family ever owned in 1944. It was at 973 West Avenue, a few blocks from Bluebird's Bakery, and right next door to the family of Calogero Butera and Grazia Asarese, fellow immigrants from Serradifalco.
Sadly, our joy at being in our own home was cut short on July 4, 1944, when my father was struck and killed by a hit and run driver on the corner of West Ferry and Niagara. But by buying that house on West Avenue, Gaetano had provided for his family, and through his work ethic, frugality and passion to save, he had given us all a valuable example that we have tried to emulate throughout our lives.
| | | | | | |
| --- | --- | --- | --- | --- | --- |
| | | | | | |
| | | | | | |
| Ange and Rosa, 1943 | | | | Last photo of Gaetano, June 1944 | |
Even with our father's passing, for years after the 'picking' had ended, the family maintained close contact with North Collins. Millie's groom Al Volo was the son of another Serradifalco

èmigrè, Michele Volo.

Millie and Al settled in North Collins, on Center Road, on the town's border with the village of Brant.
The family was always welcome there, to gather for a Sunday meal of Millie's delicious sauce, to pick apples from their trees and strawberries that grew wild in their lawn, or to climb their mulberry tree, in the process staining our shirts and jeans (we called them dungarees, then).
If more than one sibling showed up with his or her brood, we'd have a picnic right there under the apple trees. Eventually, the picnics got too big to hold there, and we began to have an annual one at a park. But the first were the fondly remembered ones at 'Millie and Al's', in North Collins.