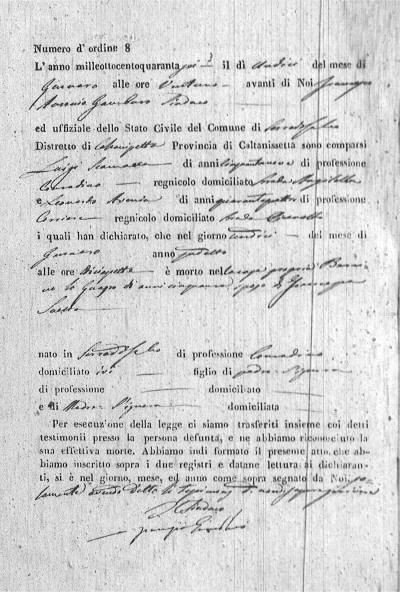 ...
.
Numero d' ordine 8
L'anno milleottocentoquarantasei, il di Undici del mese di
Gennaro alle ore Ventuno avanti di Noi Francesco
Antonio Gambuto Sindaco
ed uffiziale dello Stato Civile del Comune di Serradifalco Distretto di Caltanissetta Provincia di Caltanissetta sono comparsi Luigi Scamacca, di anni Cinquantanove, di professione
Contadino regnicolo domiciliato Strada Angilella,
e Leonardo Avenia, di anni quarantaquattro, di professione Corriere, regnicolo domiciliato Strada Piconotto,
i quali han dichiarato, che nel giorno undici del mese di
Gennaro anno sudetto,
alle ore diciasette è morto nel la casa propria Berti-
no lo Guasto di anni cinquanta sposo di Francesca
Saetta ~ ~ ~
...
nato in Serradifalco, di professione Conatdino,
domiciliato ivi, figlio di padre d'ignoto,
di professione ~ ~ domiciliato ~ ~
e di Madre d'ignota domiciliata ~ ~
Per esecuzione della legge ci siamo trasferiti insieme col detti
testimonii presso la persona defunta, e ne abbiamo riconosciuto la
sua effetiva morte. Abbiamo indi formato il presente atto, che ab-
biamo inscritto sopra i due registri e datane lettura al dichiaran-
ti, si è nel giorno, mese, ed anno come sopra segnato da Noi so-
amente avendo detto li testimonii di non sapere scrivere
Il Sindaco
Francesco Gambuto
...
.
Number 8
Year one thousand eight hundred forty-six, day Eleven of the month of
January at hour Twenty-one before Us Francesco
Antonio Gambuto Mayor
and official of the Civil Record of the Town of Serradifalco District of Caltanissetta Province of Caltanissetta have appeared Luigi Scamacca, age Fifty-nine, occupation
Sharecropper subject of the realm, living at Strada Angilella, and Leonardo Avenia, age forty-four, occupation
Courier, subject of the realm, living at Strada Piconotto,
who have declared that on day eleven of the month of
January, year as above,
at hour seventeen has died in his own house Berti-
no lo Guasto age fifty, spouse of Francesca
Saetta ~ ~ ~
..
he was born in Serradifalco, occupation Sharecropper,
lived here, son of an unknown father,
occupation ~ ~ living at ~ ~
and of an unknown Mother who lives at ~ ~
According to the law we went together with the named
witnesses to the side of the deceased, and we have acknowledged
his being dead. We have today created this document, we ha-
ve inscribed it on the two registers and have read it to the declaran-
ts on the day, month and year as above, and it is signed by Us al-
one, the witnesses having said they don't know how to write
The Mayor
[Signed] Francesco Gambuto
From Serradifalco Registri Stato Civile 1466474, 1846 Deaths, No. 8, Bertino lo Guasto
Though not a strict literal translation, this is factually correct.