In 1912, at the age of twenty-three, Gaetano Coniglio married Rosa Alessi, then nineteen years old, in Serradifalco, Caltanisetta, Sicily. They lived in a region of Sicily where Gaetano had been a sulfur miner and a soldier in the Italian army. Dreaming of a new life and new opportunities in America, Gaetano followed his brother Giuseppe to the "new world" in 1913. Rosa (he called her "Rosina") had their first child, Gaetano (Guy) in Serradifalco in December 1913, and a year later she and the baby joined Gaetano in Pennsylvania.
In America, the family grew, and eventually settled in Buffalo. In addition to Guy, their children were: Leonard, Raymond, Felice (Phil), Carmela (Millie), Concetta, (Connie), Maria (Mary), Anthony (Tony), and Angelo. Through Gaetano's and Rosa's hard work, they became home-owners and saw their family flourish. Gaetano passed on in 1944, but Rosa lived to welcome and revel in the birth of all twenty-seven of her grandchildren.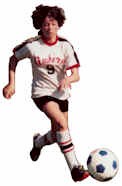 Angelo married Angie Bongiovanni, and they had two kids; Angelo, and Angela, the youngest grandchild of Gaetano and Rosa. Angela was a vibrant child who grew into a young woman with many passions: sports of all kinds; competition; coaching; science and biology; and teaching.
For years Angela played goalie on boys' hockey teams; she played hockey and lettered in several other sports at Amherst Central High School; she played soccer for thirteen summers in the Empire State Games; and she starred in womens' soccer at Nazareth College, where she set school records for single game assists and career assists. She's a member of the Athletic Hall of Fame at Amherst High . . . . . . .
. . . . . . . and at Nazareth College.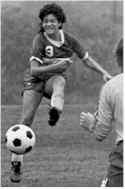 After college, Angela taught junior and senior high school Science and Biology courses, refereed girls' soccer, and coached girls' track, softball, basketball and field hockey. She was an advocate for women and minorities throughout her career. She loved teaching, and her students enjoyed her classes immensely. One student told a story about how Angela once stood on her head and swallowed gummy-worms in front of a biology class, to demonstrate the process of peristalsis.
This scholarship uses funds that Angela left on her passing, and is intended to help her cousins achieve a goal she cherished: education. It is both a memorial to and a gift from your cousin Angela.
If you want to apply for this scholarship, please contact Uncle Ange, Aunt Angie, Denise Denisco Tiranno, or Maria Sowa Valint, and submit a letter or a-message that states your relationship to Angela and the name of the college or program to which you have been accepted.
Eligible for this scholarship are any of Angela's cousins descended from Gaetano Coniglio and Rosa Coniglio; and the children and grandchildren, etc. of those cousins.
The original funds from this award were from Angela's estate. That amount has been augmented by contributions from Angela's relatives, and twenty-seven scholarships have been awarded in the past twenty-one years. In that time, fund growth and contributions have enabled the award to be increased from $200 to the present $1,200.