Anna dell'Aera (dell'Aria)

Born: 26 April 1759 ~Serradifalco, Caltanisetta, Sicilia??
Married to Antonio Cimino: 11 September 1774 ~Serradifalco
Died: 15 June 1826 ~ Serradifalco
Meaning of dell'Aera [dell-EYE-ruh]: possibly 'from or of the air'
Anna's surname is seen in the variations dell'Aera; dell'Ajera and dell'Ajra, in which the letter that looks like a "j" was actually an "i" that was written with a 'tail' to show that it was pronounced like the English "y"; and dell'Aria (dell-AHR-ee-uh). More modern variations include Dellaria, which also means 'of the air'.
Civil birth records weren't made in Sicily before 1820. Anna's birth date was the same as her baptism date, 26 April 1759. Both her civil and church death records gave her age as 60 on 1774, but they were in error, and she was fifteen years old in 1774 when she married Antonio Cimino.
Anna was born during the reign of Carlo V (Charles V), King of Spain and All its Holdings, who also ruled the Kingdom of Sicily (Il Regno di Sicilia, or simply Il Regno). Anna was not an Italian, because no nation called Italy existed at the time of her birth, nor at her death. She was probably Serradifalco and she died in the same town, by then a part of the Kingdom of the Two Sicilies (I Due Sicilie), ruled by Carlo's son Ferdinando I. Anna dell'Aera was a Sicilian.

The index to Anna's baptism record, shown above from the index for Serradifalco baptisms from 1695 to 1757, says 'Aera Anna et Leonarda: page 28, number 249. The record, below, is preceded by a record which gives the date as 26 April 1759.
From Baptismi (Baptism records)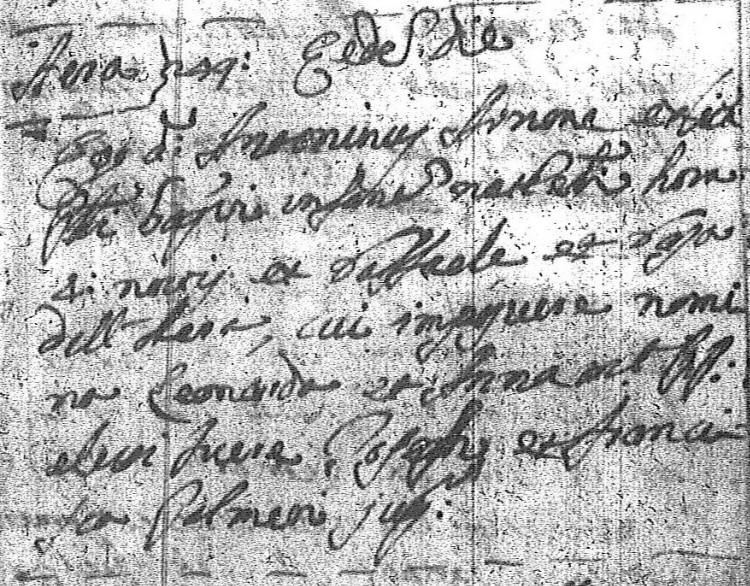 From Serradifalco Registri Ecclesiastici Film 2012918, 1759 Baptisms, Leonarda Anna Aera
Cantella/248: die 26: Aplis 59
Aera/249: Eode die
Ego Antoninus Arnone ex lictia
Pchi baptizi infans natis - - hora
4 noctis ex Raffaele et Rosa
dell-Aera cui imposita nomi
na Leonarda et Anna fuit PP:
- - - fuere Joseph et Franci-
sca Palmeri jug:
Cantella/248: day 26 of April 1759
Aera/249: Same day
I Antonino Arnone with license of
the Parish baptized an infant born - - hour
4 AM of Raffaele and Rosa
dell-Aera, to which child the name
Leonarda Anna was given. Godparents:
- - - were Giuseppe and France-
sca Palmeri, a married couple.
From Matrimonii Ecclesiastici (Canonical [church] marriage records)
To understand my paternal gggg-grandmother Anna dell'Aiera's church marriage record, in Latin, several documents are required. The first is the multi-year index of marriages for Serradifalco's Chiesa Madre for the years 1756 through 1859, which is tabulated roughly alphabetically by the first letter of the groom's first name, Antonio. The Chiesa Madre, the "Mother" or Main Church in those years was the Chiesa San Francesco. Note that the bride's surname is given as dell'Aria, a variation of the original, dell'Aiera.
A portion of the index:

Antonius Cimino et An-
na dell'Aria----------- f 72

"Antonio Cimino & An-
na dell'Aria----------- page 72"
The page with the actual record is folded over, and the date of the marriage is not legible. But the last record on the previous page, and the record following Antonio and Anna's, each gives the date as 11 September 1774.
From Serradifalco Registri Ecclesiastici Film 2013010,
1774 Marriages, Antonio Cimino and Anna dell'Aria
Anno dom 1774 die 11 7bris premiss denunciato tribus festibus con
tinuus die 24; 28 Augusti; et 4 7bris, nulloque dioca impedimento, Ego
Sac. Antoninus Arnone ex Parochi licentia Antonium Cimino
filius legitimus et nat Petri, et Gratiae jug huius Terrae; et Anna
dell'Aria - - fil: leg et nat Raphaelis et Rosae jug huius Terrae
- - - hoc Francesci Ecclesia interrogavi eorum et Parentis habito con-
- - - cor testibus d: Michaele Cimino, et d: Felice Giardina
- - - - - benedixi: - - - - - - - - - - -
- - - - Ann Dom 1774, 11 Septbris
Year 1774 AD day 11 of September announced at Mass three con-
secutive feast days 24; 28 of August; and 4 of September, with no objection, I Priest Antonino Arnone with Parochial permission: Antonio Cimino,
son, legitimate & natural of Pietro & Grazia, a couple from this Place; & Anna
dell'Aria - - daughter: legit & nat of Raffaele & Rosa, a couple from this Place
- - - here in the Church of S. Francesco I asked them and their Parents and - - -
- - - before witnesses Don Michele Cimino and Don Felice Giardina
- - - - - I blessed them: - - - - - - - - - - -
- - - - 1774 AD, 11 September
From Atti di Morte (Civil death records)





Number forty-seven
Year one thousand eight hundred twenty-six day fifteen of the month of June

From Serradifalco Registri Stato Civile 1466473, 1826 Deaths, No. 47, Anna dell'Aira
Anna dell'Aera married Antonio Cimino on 11 Sep 1774 in Serradifalco

Children

Pietro Vincenzo Cimino: 18 Dec 1775 - 15 Jan 1824 (Married Giuseppa lo Vecchio)
Vincenza Concetta Cimino: 14 Jan 1778 -
Giuseppe Biagio Pietro Cimino: 5 Nov 1779 -
Prospera Cimino: 19 Feb 1855 -
Raffaele Cimino: abt 1788 - aft 1825 (Married Maristella Tabone)

After Antonio Cimino's death, Anna dell'Aera married Antonio Cimino on 11 Sep 1774 in Serradifalco