Giuseppa lo Vecchio

Born: 15 October 1786 ~Serradifalco, Caltanisetta, Sicilia
Died: 7 July 1864 ~Serradifalco, Caltanisetta, Sicilia
Meaning of lo Vecchio [luh-VEH-kyu]: the old one
Civil records of births were not kept before 1820. Below is the baptismal record of my maternal great-great-great-grandmother Giuseppa lo Vecchio, from the Chiesa San Leonardo Abate in Serradifalco.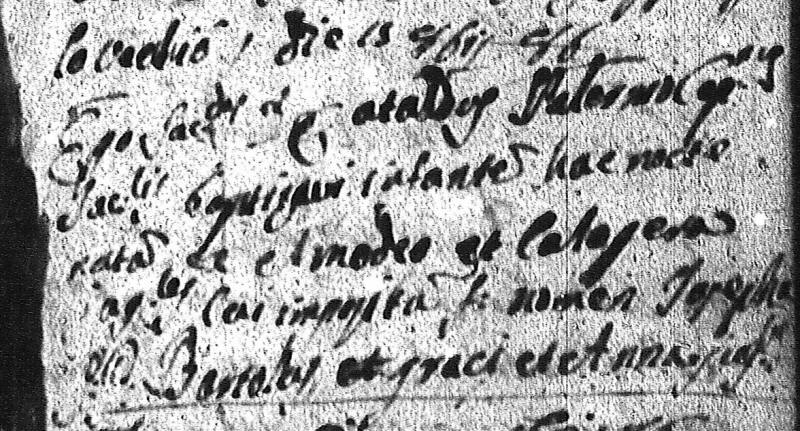 From Serradifalco Registri Ecclesiastici Film 2012918, 1786 Baptisms, Page 202, lo Vecchio Josepha
lo Vecchio} die 15 8bris 86
Ego Sactus Cataldus Palermo Cap. Sactis baptizavam infante hac nocte nata ex Amodeo et Calogera,
jugbus. Cui imposita f: nomen Josepha P.P Bartolus et Anna Digraci, jugbus.
lo Vecchio} day 15 October 1786


I Priest Cataldo Palermo Holy Chaplain baptized an infant born this night to Amodeo and Calogera, man and wife. The name given her is Giuseppa. The godparents were Bartolo Digraci and Anna, married.
Civil records of deaths normally gave no cause of death. Two witnesses or declarants went to the Town Hall to report the death, and the official then accompanied them to the home of the deceased. One of the witnesses in this case was Gaetano Coniglio, age 26. Gaetano was not related to Giuseppa lo Vecchio, and had no way of knowing it, but she would be my GG-grandmother on the Alessi side, and he was my grandfather on the Coniglio side!

Number 87
Year one thousand sixty-four the day eight of the month of
July at hour thirteeen before Us Doctor
Vincenzo Sesta Mayor
.
and official of the Public Record of the Town of Serradifalco
District of Caltanissetta Province of Caltanissetta have ap-
peared Gaetano Coniglio ~ of years twenty-six of oc-
cupation Sulfur miner ~ subject of the realm living at Strada Nuova ~
and Salvatore Lovullo ~ of years twenty-eight of occupation
Wine-cellarer subject of the realm living at Strada Santuffizio ~
who have declared, that on day seven ~ of the month of
July: ~ year as stated above ~
at hour twenty-one, has died in her house of habitation
Giuseppa Lovecchio of years eighty, widow of
the late Pietro Cimino ~

.
.
she was born in Serradifalco, her occupation was Sharecropper
She lived at Strada delle Mandre [Street of the Flocks] daughter of the late Amodeo
whose occupation was ~ and who lived at ~
and of the late Calogera Grottadaurea who lived here.
.
.
.

In accordance with the Law we have gone together with the aforesaid
witnesses to the deceased person, and we have corroborated
her as being deceased. We have today created this record, which we
have written on the two registers and have read to the declarants,
and which on the day, month and year noted above was signed by Us al-
one, the witnesses having stated that they do not know how
to write ~


Il Sindaco
[Signed] Dr. Vincenzo Sesta
.

From Serradifalco Registri Stato Civile 1466474, 1864 Deaths, No. 87, Giuseppa Lovecchio
Giuseppa lo Vecchio married Pietro Cimino in about 1808

Children

Teresa Cimino: about 1809 -
Antonio Cimino: about 1819 - 16 Dec 1869 (Married Concetta lo Guasto)
Domenico Cimino: about 1820 - 27 Sep 1824
Anna Cimino: 5 Feb 1823 - 9 Aug 1823
Pietra Cimino: 11 Jul 1824 -
Francesca Cimino: 14 Sep 1860 - 27 Jan 1827