Pietro Vincenzo Cimino

Born: 18 December 1775 ~Serradifalco, Caltanisetta, Regnu diSicilia
Died: 15 January 1824 ~Serradifalco, Caltanisetta, Regnu dei DueSicilie
Meaning of Cimino [chee-MEEN-oh]: small peak or ridge; point
My maternal GGG-grandfather Pietro Cimino was a contadino (sharecropper). Peasants worked land own by a landlord, and for their pay kept a small percentage of the crop. The land he worked was probably owned by Duke Domenico Antonio Lo Faso Pietrasanta, the Baron of the fief and town of Serradifalco. The Baron owned the land, and very nearly owned the peasants. Pietro was born during the reign of the King of the Two Sicilies, Ferdinando I (also known as Ferdinando III and IV!!), who in turn was a subject of his father King Carlos III of Spain and All its Holdings (including Sicily, where Carlos was known as Carlo V). Carlo's image was on the Spanish coins which were 'coin of the realm' in Sicily

Eastern North America in 1775 was comprised of thirteen colonies of Great Britain, ruled by King George III.
There were no civil birth records in 1775, when Pietro was born. The second record below is his baptismal record (the date of the record is given for the first person on the page, as 19 December 1775.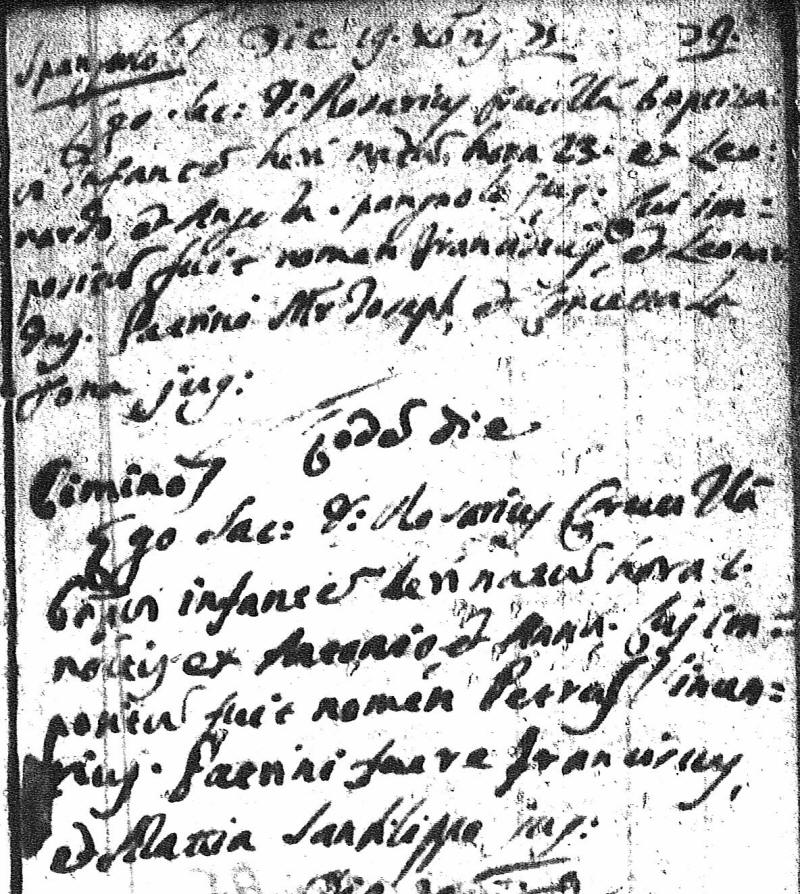 From Serradifalco Registri Ecclesiastici Film 2012918, 1775 Baptisms, Page 79, Petrus Vincentius Cimino
Spagnuolo} Day 19 December '75 p. 79.


I Priest Don Rosario Crucill

à

baptized an infant, etc. ~ ~
~ ~


same day

Cimino}


I Priest Don Rosario Crucill

à

baptized an infant born at hour one last night to Antonio and Anna.

Name given him is Pietro Vin-
cenzo. Godparents were Francesco and Maria Sanfilippo, married.
Number six
Year one thousand eight hundred thirty-four, day fifteen of the month of
January at hour ten AM before Us Fillipo Lombardo functionary of the Mayor and official of Civil Records of the Town of Serradifalco District of Caltanissetta Val [Region] of Caltanissetta have appeared Cosimo di rancesco, age fifty-six, occupation sharecropper subject of the realm, living in Serradifalco at Strada Macaluso number twenty-eight ~ ~ ~, and Giuseppe Giambra, age seventy, occupation sharecropper, subject of the realm, living here at Piano Palermo number five, who have declared that on day fifteen of the month of January, year as above, at hour nine AM has died in the house he lived in at via di Antonio Cimino number two, Pietro Cimino age forty-three, spouse of Giuseppa lo Vecchio ~ ~ ~ he was born in Serradifalco, occupation sharecropper, lived here, son of the late Antonio, occupation sharecropper and of Anna in Cimino who lives here at Strada di Fazio number seventeen
.


According to the law

we went

together with the

named witnesses

to the side of the

deceased

,

and we have

acknowledged his

actual

death.

We

have today created this document

,

we have

inscribed

it on two

registers and

have read it

to the declarants on

the day

, month

and year

as above, and it is signed by us

alone, the witnesses being, as they have said, illiterate

[Signed] Filippo Lombardo


From Serradifalco Registri Stato Civile Film 1466473,
1824 Deaths, No. 6, Pietro Vincenzo Cimino

This translation is factually correct.
To conserve space, it is not a strict literal translation.

From Serradifalco Registri Ecclesiastici 2013010, 1824 Deaths, page 36, Petrus Cimino
Day 15: November 1824

Cimino|


Pietro Cimino husband of Giuseppa lo Vecchio his age 43 years

died yesterday: His body was taken by me Priest




Peter Arnone Holy Chaplain, to the Church of the M.H. Rosary, and there buried.
Pietro Cimino married Giuseppa lo Vecchio in about 1808

Children

Teresa Cimino: about 1809 -
Antonio Cimino: about 1819 - 16 Dec 1869 (Married Concetta lo Guasto)
Domenico Cimino: about 1820 - 27 Sep 1824
Anna Cimino: 5 Feb 1823 - 9 Aug 1823
Pietra Cimino: 11 Jul 1824 -
Francesca Cimino: 14 Sep 1860 - 27 Jan 1827