Raimonda Vincenza Ricotta

Born: 12 April 1717,Serradifalco, Caltanisetta, Kingdom of Sicily
Died: 20 November 1800, Serradifalco, Caltanisetta, Kingdom of Sicily
Meaning of Ricotta [rih-KOHT-tuh] a soft cheese made from sheep's milk
My great-great-great-great-grandmother Raimonda Vincenza Ricotta's common name is given as Vincenza on baptism, marriage, and death records of her offspring, and her surname Ricotta from the 1821 death record of her son Amodeo Coniglio. The 1737 baptism and 1759 marriage records of Pasquale Domenico Coniglio give his parent's names, in Latin, as Philippus (Filippo) Coniglio and Vincentia (Vincenza). Both parents were living in 1759 at the time of Pasquale's marriage, and in 1772 at the marriage of their daughter Giuseppa. The same names appear as parents on the 1740 baptism record of Gaspare Epifanio Coniglio and the 1828 death record of Concetta Coniglio.
A 1717 baptism record is likely that of Vincenza. The record itself is damaged, but the index to the record gives information that helps decipher it. Below are the index and the pertinent entry, as well as the page of baptisms and the record for Vincenza, whose full name is given as Raimonda Vincenza.
Ricotta Raymunda I Fil: Petri, et
Catherine___________f 190

.

Ricotta

Raimonda

Infant

daughter

of

Pietro &
Caterina______page 190

.

Serradifalco Registri Ecclesiastici Film 2012918
Chiesa dell'Immacolata Concezione
1717 Baptism Index, Raymunda Vincentia Ricotta,
FamilySearch image 1364/2996
Die 12: Aprilis 1717
_ _D. Mattheus Geraci Rvs
baptizavi infm natum
ex Petri, et Catharina Ricot-
ta jugbus. Cui impositum fuit
nomen Raymunda, et Vincentia
PP fuere Antoninus Middione
et Raymunda uxor Bartolomei Palum
bo huius Terrae Serrafalchi

Serradifalco Registri Ecclesiastici Film 2012918, Chiesa dell'Immacolata Concezione
1717 Baptisms, Page 190, Raymunda Vincentia Ricotta
FamilySearch image 1473/2996

Day 12 of April 1717
_ _Don Matteo Geraci Reverend
baptizied an infant born
of Pietro, and Caterina Ricot-
ta a

married couple.

T

he child

was given


the name Raimonda Vincenza
Godpaernts were Antonino Middione


and Raimonda wife of Bartolomeo Palum


bo of this Land, Serradifalco
Vincenza's death record, below, is barely legible, but the key dates and names can be recognized.
Morte (Church Records of Deaths)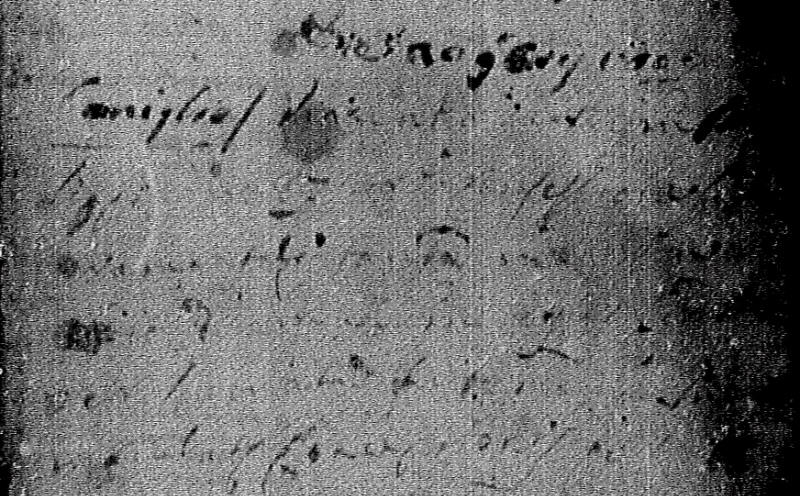 Serradifalco Registri Ecclesiastici Film 2013010, Chiesa
dell'Immacolata Concezione
, 1800 Morte, page 121, Vincentia Coniglio
Die 20 9bris 1800
Coniglio/ Vincentia uxor qdm Phi-
lippi an. 67

Day 20 November 1800
Coniglio/ Vincenza wife of the late Fi-
lippo; age 67

from Serradifalco Ecclesiastical Registers Film 2013010,

Church of the Immaculate Conception


1800 Deaths, page 121, Vincentia Coniglio
FamilySearch image 1913/3133
Below is the civil death record of Vincenza's son Amodeo, confirming her surname as Ricotta.

Number One hundred eight
Year eighteen hundred twenty-one ~ day twenty-eight

of the month of

October
at hour three postmeridiem before Us Priest Francesco li Calsi, Mayor
and official of civil records of the Town of Serradifalco

district of Caltanissetta Val of Caltanissetta have appeared Filippo
Vaccari __ age forty-two years, occupation peasant sharecropper


subject of the Kingdom of the Two Sicilies, living in

said Town, at Strada Delle Logge number Seventeen,

and Giuseppe Lombardo __ age twenty-four years, occu-
pation peasant sharecropper subject of the realm, living here at Strada Cimino number Five, ________________________________________who have

declared that on day Twenty-eight of the month of October,
year as above, _______ at hour one post meridiem has died in
his own house Amodeo Coniglio, age
seventy-four, husband of Arcangela d'Orlando, deceased

he was born in Serradifalco, ____ status
middle-class townsman _________ domiciled at Piano della Concezione
number Seventeen
son of Filippo, deceased ____ of occupation ________
domiciled ____________________ and of Vincenza Ricotta, deceased ____ domiciled _____________


According to the law

we went

together with the

named wit

nesses


to the side of the

deceased

,

and we have

acknowledged his

actual

death.


We

have today created

this document

,

we have

inscribed

it on two

re-
gisters and

have read it

to the declarants on

the day

, month

and year

as above, and it is signed by us

[me] alone, Vaccaro and Lombardo having stated that they don't know how to write.
[signed] Francesco li Calsi Mayor

From Serradifalco Registri Stato Civile 1466473, 1821 Deaths, No. 108, Amodeo Coniglio
Vincenza Ricotta married Filippo Coniglio

Known Children

Pasquale Domenico Coniglio: 4 Aug 1737 - aft. 1828 (Married Rosa Volpe) < These are my ggg-grandparents

Gaspare Epifanio Coniglio: 6 Jan 1740 - aft 1786 (Married Gaetana Cumbo) < ggg-grandparents of Vinnie Scimè
and gggg-grandparents of Samuel Crinò
and of John Puma of Serradifalco
and ggggg-grandparents
of Sebastiano A. M. LoCurto

Felicia Ludovica Coniglio: 8 Jan 1742 - ?

Angelo Coniglio: est 1745 - bef 21 Apr 1825 (Married Anna lo Curto)

Amodeo Coniglio: abt 1747 - 28 Oct 1821 (Married Arcangela d'Orlando)

Angela Coniglio: ? - ? (Married Giuseppe Bruno on 3 Feb 1765)

Concetta Coniglio: abt 1754 - 26 Jan 1828 (Married Gaetano Cimino)

Giuseppa Coniglio: ? - ? (Married Leonardo Petix on 26 Jan 1772)

Rosa Coniglio: bef 1759 - ?

Felice Carmelo Paolo Gregorio Coniglio: 22 Jun 1759 - ?