Don Pasquale DomenicoConiglio
.
Born: 4 August 1737 ~Serradifalco, Caltanissetta, Kingdom of Sicily
Married Donna Rosa Volpe on 1 December 1759: Serradifalco, Caltanissetta, Kingdom of Sicily
Died: Between 1829 and 1833, probably in Serradifalco, in the Kingdom of the Two Sicilies
Meaning of Coniglio [coo-NEEL-yu]: rabbit
Civil birth records were not made in Sicily before 1820, but I found the church record, in Latin, of the baptism of my great-great-great grandfather Pasquale Domenico Coniglio.

In 1737, the Kingdom of Sicily was part of the Spanish Bourbon empire. In 1734, Charles, Duke of Parma, the eldest son of King Philip V of Spain, had conquered the kingdoms of Naples and of Sicily, and was crowned as the King of Naples and Sicily on 3 July 1735, reigning as Carlo VII of Naples and Carlo V of Sicily. The coin of the realm was the Spanish reale.

Pasquale Domenico Coniglio was not a subject of Italy, which did not exist as a nation at the time. He was a Sicilian.





King Carlo V

In 1737, American patriots John Hancock and Thomas Paine were born, and the city of Richmond, Virginia was founded. In the British colonies, Benjamin Franklin established the first American city police force, in Philadelphia.
From Baptismi (Baptism records)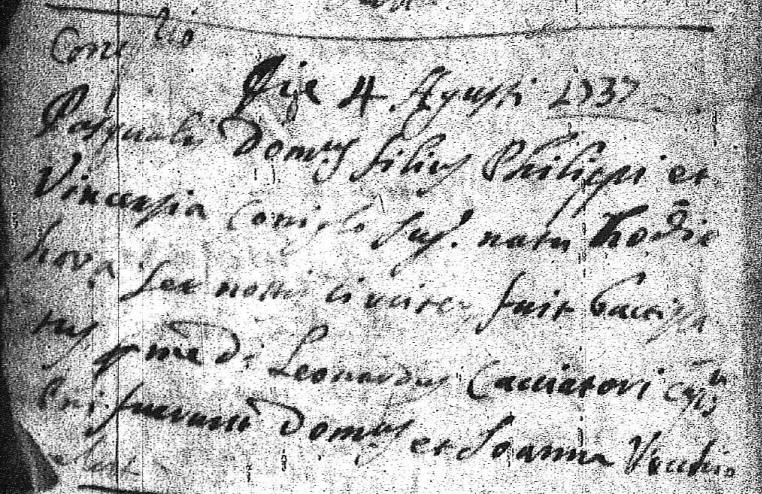 From Serradifalco Registri Ecclesiastici 2012918, 1737 Baptisms, Pasqualis Domenicus Coniglio
Coniglio
Die 4 Augusti 1737
Pasqualis Domus filius Phillipi et
Vincentia Coniglio jug. natum hodie
hora Sex noctis circiter fuit baptiza
tus a me D. Leonardus Cacciatore capus
Prii fuerunt Domus et Ioanna Vecchio
jugb
Coniglio
Day 4 August 1737
Pasquale Domenico son of Filippo and
Vincenza Coniglio, married, born today at
about hour Six at night was baptized
by me Don Leonardo Cacciatore chaplain


Godparents were Domenico and Giovanna Vecchio

,
married
My paternal ggg-grandfather Pasquale's marriage record, in Latin, gives his name as 'V.C. Paschalem Coniglio'. 'V.C.' is the abbreviation of 'Vir Clarissimus', meaning 'Most Illustrious Man', or 'Distinguished Gentleman'. This phrase is translated into Italian as 'Don'.
From Matrimonii Ecclesiastici (Canonical [church] marriage records)

From Serradifalco Registri Ecclesiastici Film 2013010
1759 Marriages, page 9, Paschalis Coniglio and Rosa Volpe
Anno domi 1759 die 1: Dicembris promessis proclamaronibus tribus diebus


Festibus continuis quarum prima fuit die 18 secunda 25 et
tertia 30: 9bris inter messorum . . . .. habita nulloque
sine legmo, sine canoc . . . . impedimento Ego. d. Joseph
Guadagnino huj Ter V.C. Paschalem Coniglio f: l: et n: Philip
pi et Vincentiae jugalib. huj . . . et Rosam Volpe F: leg: et n.
Hieronimi et Magdalenae Volpe jugbus huj Ter in hoc Matrici
Ecclesia interrogavi, utnusque mutuo habito consenza per cor
. . . . . in faciem Ecclesiae matrimonio Conjunti coram testis
Paulino Lombardo et Sebastianae Blandina , ac . . . . in . .
. . . . . benedixi
Year of Our Lord 1759 day 1 December

banns posted three continuous


Feast days of which the first was day 18, the second day 25 and
the third 30 September at the masses . . . . having no one
with legal or canonical . . . . objections I, Don Giuseppe


Guadagnino of this Land, Don Pasquale Coniglio leg.

& nat. son of Filip


po and Vincenza, married, of here . . and Rosa Volpe leg. + n. daughter




of Giralomo and Magdalena Volpe, married, of this Land in this Mother


Church I asked if they both had consented to . . . . . . . . . . .
. . . . . before the Church were joined in matrimony before witnesses
Paolino Lombardo and Sebastiano Blandina . . . . . . in . .
. . . . . I blessed them
Don Pasquale Domenico Coniglio married Donna Rosa Volpe

Known Children

Giuseppe Coniglio 1760 - 1833 (Married Maria Anna Vaccari*)
Francesco Coniglio: 1 Oct 1760 - ?
Sacerdote (Priest) Raimondo Coniglio: 19 Nov 1764 - 21 Oct 1838
Gaetano Coniglio: abt 1768 - 17 Jul 1838 (Married Giuseppa Montalto)
Serafina Coniglio: 26 Mar 1777 - 20 Dec 1829 (Married Mariano Ferraro); ancestors of John Granato
Carlo Coniglio: 20 Dec 1779 - ?
Amodeo Coniglio: 24 Aug 1782 - ?
Anna Coniglio: ? - ? (Married Giuseppe Vaccari*)

*Giuseppe Vaccari and Anna Vaccari were brother and sister