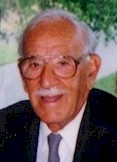 Raymond A. Coniglio, a decorated combat veteran of World War II and a long-time Buffalo Sewer Authority employee, died Wednesday, November 9, at age 93 in Florida. He had been a Florida resident for over thirty years.

He was the third of nine children, six boys and three girls, and was born in 1918 in Roberstdale, PA to Sicilian immigrants Gaetano and Rosa Alessi Coniglio. As a child, he moved with his family to Peacock Street in Buffalo's old Canal District. Before World War II, he and his older brother Gaetano served in the Naval Reserve, and when the war broke out in 1941, Raymond entered the US Army.

He was in the nation's first organized combat of the war, serving as a foot-soldier with the 47th Infantry Regiment of the 9th Infantry Division, in and around Tunisia, North Africa, where he received a battlefield commission to Sergeant.

After victories in Africa, his unit then participated in the capture of Sicily in 1943, and after rest and recuperation leave in Britain, landed on France's Normandy beach just days after D-Day in 1944, while the battle still raged.
Mr. Coniglio also saw combat in Belgium and Germany, and received battle ribbons for Algeria-French Morocco, Tunisia/Sicily, Normandy, Northern France/Ardennes-Alsace, and Rhineland/Central Europe. He was awarded battle honor citations for the Battle of Cherbourg, France, and the Battles of Wilhelmshohe and Oberkirchen, Germany; bloody campaigns that helped secured the Allied victory. Once, while in Germany, he encountered Marty Pepe, a childhood friend from Buffalo, serving with a different unit in the same combat zone. The old friends had a photo taken on the rear deck of an Army tank, a photo that Coniglio cherished for the remainder of his life. During his tours in Africa and Europe, Coniglio received theater ribbons for Algeria-French Morocco; Tunisia; Sicily; Normandy/Northern France; Ardennes-Alsace/Rhineland (the Battle of
the Bulge); and Central Europe On his way to his battlefield commission from 'buck private' to Sergeant, he earned six Bronze Service Stars, a Bronze Star, a Silver Star and a Purple Heart. He also received battle honors for the batlles of Cherbourg in France and the battles of Oberkirchen and Wilhelmshohe in Germany. In 1994, the government of France awarded him the Liberté medal on the fiftieth anniversary of the Allied invasion of Normandy.
After discharge, he served with the Buffalo Sewer Authority until retirement in 1980. While at the Authority he rescued a woman in distress from the Niagara River, after she had fallen in while fishing. He received the Authority's Award for Service 'beyond the call of duty'.
Mr. Coniglio is survived by two sons, Raymond Guy of Sebastian, Florida, and Ronald Andrew (Debra) of Amherst; by five grandchildren, Raymond Guy Coniglio Jr. (Kelly), Robert Coniglio (Mindy), Rebecca (Marc) Scherrer, Amanda Skinner, and Zachary Skinner; six great-grandchildren, Haley Jee and Ryan James Coniglio, Catherine Nancy and Margaret Kathleen Scherrer, and Sarah Jane and Andrew Raymond Coniglio; by a sister, Concetta Miller of Illinois and a brother, Angelo (Angela) of Amherst, and by dozens of nephews and nieces, including his godchildren, nephew Angelo Raymond Coniglio and niece Jean Coniglio Silvestro. His wife of fifty-four years, the former Marion Cappellano, passed away in 2005, and he was also pre-deceased by his brothers Gaetano (late Mary), Leonard, Felice (late Betty) and Anthony Sr. (late Frances), and by his sister Carmela (late Alfred) Volo and Mary (late Frank Sr.) Sowa of Buffalo.
A Mass of Christian Burial was celebrated on November 29, 2011 at his former parish of St. Leo the Great in Amherst by the pastor, the Rev. Msgr. Robert E. Zapfel, and by Father Charles Amico, a family friend. He was interred next to his beloved wife Marion at Mt. Olivet Cemetery in Tonawanda, New York.