Gaetano Coniglio
.
Born: 1766-1774 ~Serradifalco, Caltanissetta, Kingdom of Sicily
Died: 1 July 1838 ~ Serradifalco, Kingdom of the Two Sicilies
Meaning of Coniglio [coo-NEEL-yu]: rabbit
Civil birth records were not made in Sicily before 1820, nor have I yet found a church baptism record for Gaetano. His birth year (between 1766 and 1774) is estimated from his age given on various documents including his marriage record, his civil and canonical death record, and the birth records of his children, some of which also give the names of his parents, Pasquale Coniglio and Rosa Volpe. Gaetano's occupation is given in different documents as pecoraio (shepherd).

Sicily at the time was part of the Bourbon Kingdom of the Two Sicilies, known as the Kingdom of Naples, and from 1768 to 1814 it was ruled de facto by Queen Maria Carolina of Austria, wife of King Ferdinando IV of the Two Sicilies, and sister of France's Maria Antonia (Marie Antoinette). Her 46-year reign was one of the longest by a Sicilian monarch.


Maria Carolina

In 1768, in the British colonies of America, Samuel Adams published protests over taxation without representation. In 1773, colonial activists in Boston disguised themselves as Mohawk Indians, boarded British ships and dumped 342 containers of tea into the harbor.
From Atti di Morte (Civil death records)




Number Sixty
Year eighteen hundred thirty eight ~ day seventeen of the month of
February at hour eleven _________________ before Us France-
sco Antonio Gambuto Mayor ~
and official of civil records of the Town of Serradifalco district of Caltanissetta Val of Caltanissetta have appeared Giusep pe Calabrese __________ age forty-six __________, occupation
landowner _______ subject of the realm, living at Strada Nuova, and Salvatore Calabrese age forty-two, ____________ occupation blacksmith, subject of the realm, living in Serradifalco
___________________________________________who have declared that on day seventeen of the month of July,
year as above, at hour ten ______________________has died in
his own house Gaetano Coniglio, age seventy [b. about 1803], hus- band of the late Giuseppa Montalto and ultimately of the late Antonia Burgio ~


he was born in Serradifalco, ____ occupation sharecropper __________________ lived on Strada Nuova.
son of the late Pasquale ____ of occupation ________
living at ______________________ and of the late Rosa Volpe ____ living at _____________



According to the law

we went

together with the

named wit-
nesses

to the

side of the

deceased

,

and we have

acknowledged his

ac-
tual

death.

We

have today created

this document

,

we have

inscrib-
ed

it on two

registers and

have read it

to the declarants on

the day

,
month

and year

as above, and it is signed by Us

alone,
the witnesses having stated that they don't know how to write.
The Mayor
Francesco Gambuto

From Serradifalco Registri Stato Civile 1466474, 1838 Deaths, No. 60, Gaetano Coniglio
From Morti Ecclesiastici (Canonical [church] death records)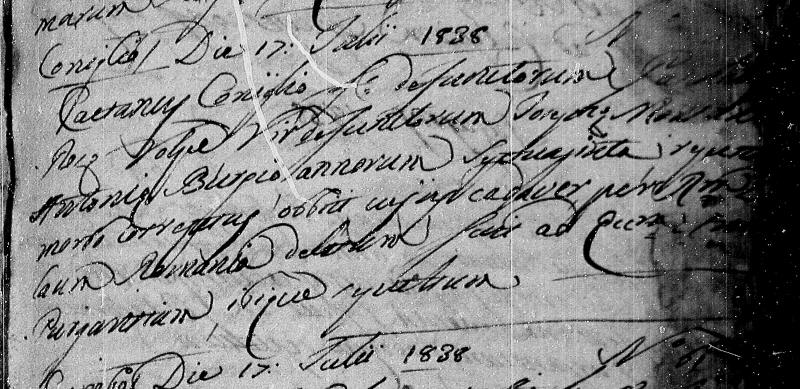 Coniglio/ Die 17: Julii 1838
Caetanus Coniglio fil. defunctorum Paschalis et
Rosae Volpe vir

defunctorum

Josephae Montalto et
Antoniae Burgio annorum Septuaginta . . . .
morbo correptus obiit cujus cadaver per Rm Nicol-
aum Romanus delatum fuit ad Ecc . . . . . .
Purgatorum, ibique repositum.
Coniglio/ Day 17: July 1838


Gaetano Coniglio son of the late Pasquale

[Coniglio] and
Rosa Volpe, husband of the late Giuseppa Montalto and
[the late] Antonia Burgio, aged Seventy years . . . .
fell ill and died. His body, by Rev Nicol-
a Romano, was brought to the Church [Oratory of
[the souls in] Purgatory. He rests here [in the churchyard.]
From Serradifalco Registri Ecclesiastici Film 2013010, 1838 Deaths, Page 61, No. 60, Caetanus Coniglio
Gaetano Coniglio married Giuseppa Montalto

Known Children

Felicia Coniglio: ~1790 - 29 Aug 1836 (Married Mastro Filippo Migliore)
Paolina Coniglio: ~1793 - 1869 (Married Giuseppe Calabrese. Widowed, married Carmelo Giunta)
Luigia Coniglio: ~1799 - 17 Jan 1878 (Married Giuseppe Milazzo)
Antonino Coniglio: ~1803 - 16 Oct 1832 (Married Concetta Mistretta)
Raimondo Coniglio: ~1801-1810 - 3 Feb 1857 (Married Maria Messina)

Giuseppa Montalto died 22 Mar 1824, and Gaetano Coniglio married Antonina Burgio on 22 May 1824
No known children