Michelangelo Alessi
.
Born: about 1766 ~Marianopoli, Caltanisetta, Regnu di Sicilia
Married Vincenza di Forte on 19 January 1790 in Serradifalco, Regnu di Sicilia
Died: between 30 June 1817 and 28 January 1873
Meaning of Alessi [uh-LACE-ee]: from the Greek, Alex, Alexander
In 1766, the estimated year of birth of my great-great-great grandfather Michelangelo Alessi, civil birth records were not kept, nor have I yet found a church baptism record for him. His birth year is estimated from his age given on various documents including his marriage record, and the birth and marriage records of his children, some of which also give the names of his parents, Calogero Alessi and Grazia.
This is a church record. Such records were ostensibly in Latin, but here, some Italian is mixed in. For example, "fu" is Italian for "the late", while the correct Latin would be "defuncta". There are also many Latin abbreviations. The original record is followed by a more legible transcription in Latin, including abbreviations, then by a lengthier Latin transcription with abbreviations expanded, and finally by a translation into English. I have shown hyphenation where necessary, although the original does not use hyphens. Words I could not understand or translate are shown in red.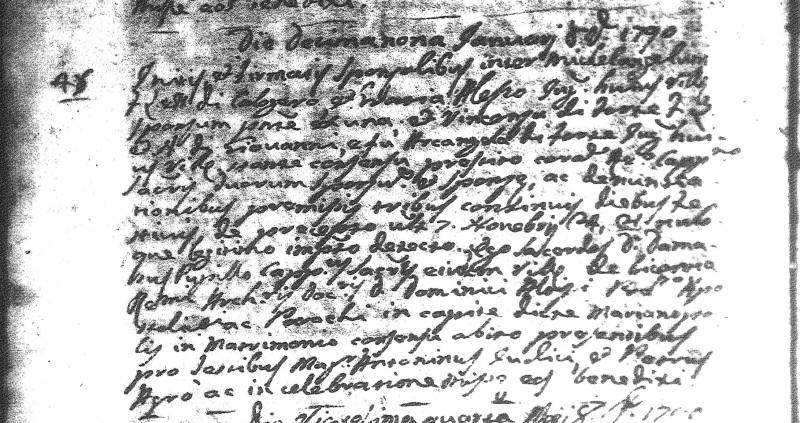 From Marianopoli Registri Ecclesiastici 2013681Chiesa San Prospero,
1790 Marriages, No. 46, Michelangelo Alessi and Vincenza Di Forte
46

Die Decimanona Januarii AD 1790
initis et firmatis sponsalibus inter Michelangelo, filius legitimus et naturalis di Calogero et Grazia Alessi jugalibus huius ville, sponsum parte ex una, et Vincenza di Forte, filia legitimus et naturalis di Giovanni et Arcangela di Forte jugalibus huius ville itante consensa prescito corae Reverendo Cappellano Sacris, duorum sponsum et sponsa, ac denuncianonibus premisis tribus continuis diebus festivis, de precepto ultima 7 Nonebris, 14, 21 nulloque legitimo impedimento detecto, ego Sacerdos Don Damasus Pupillo Cappellanus Sacris eiusdem ville, de licentia Remi Archvis docvis Don Dominici Aloysi Prono apostolici parochi, in capite dicte Marianopolis in matrimonio consensa abito presentibus pro testibus magister Antoninus Judici, et Petrus Agro, ac in celebratione missa eus benedixi.

Michelangelo Alessi married Vincenza Di Forte on 19 January, 1790 in Marianopoli

Known Children
..
Calogera Maria Giuseppa Alessi: 18 Oct 1790 - 24 Sep 1842 (Married Salvatore Lombardo)
Giovanni Alessi: abt 1792 - ?
Modesto Alessi: 8 Feb 1795 - 24 Sep 1837 (Married Emmanuela Ferraro)
Grazia Santa Alessi: 26 Nov 1800 - ?
Gandolfo Maria Alessi: 22 Jan 1803 - 13 Jun 1883 (Married Teresa Vella)
ancestor of Charles Baldi, Catherine Baldi and Shannon Angros
Giuseppe Alessi: 26 Mar 1806 - ?
Giuseppe Mariano Alessi: 28 Dec 1808 - ?
Andrea Calogero Alessi: 1 Dec 1808 - >1866 <1874 (Married Domenica La Plena)
Salvatrice (Salvatora) Alessi: 13 Jun 1811 - <1851 (Married Paolo Ferraro)
Loreto Alessi: 10 Sep 1813 - ?
Vincenzo Alessi: 1816 - ?