Antonio Coniglio
11 May 1873 - 3 March 1944


son of Gaetano Coniglio and Maria Carmela Calabrese
(brother of Gaetano Coniglio)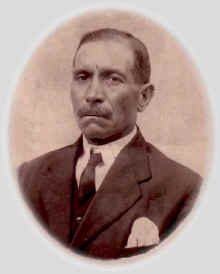 Antonio married Antonina Andolina (Iandolino) (1883 - ??)
19 January 1901
Children of Antonio and Antonina
(clicca il foto per ingrandire)

..
Gaetano Coniglio
1904 - ??
Paolino Coniglio
1914 - 1960
1943
1944
with
Giuseppina Amico
..
Gaetano married
Maria Luisa Mena
in Montevideo, Uruguay
Last known address:
1316 Cerro Largo,
Montevideo, ROU

.
Paolino married
Giuseppina D'Agro
in Serradifalco
.
Giuseppina and Raimondo's wedding.
His sister Antonina is on his left.
.
Their daughter
Antonina
---
Antonio married Giuseppina Verdone (1899 - 1993)
10 July 1927
Descendants of Antonio and Giuseppina
(clicca il foto per ingrandire)

Antonina Coniglio married Vito Barca
.


Mio padre Barca Vito ha emigrato in Belgio in settembre 1957 per lavorare alla mina. Quando lui e arrivato fu ospitato nella famiglia Iandolino. Il 30/6/1958 sono arrivata con la mia mamma et mio fratello Pietro. Poco anni dopo e arrivata anche la nonna Giuseppina Verdone.

My father Vito Barca emigrated to Belgium in September 1957 to work in the mines. When he arrived, he was hosted by the Iandolino family. On 30 June 1958, I arrived with my mother and my brother Pietro. A few years later my grandmother Giuseppina Verdone also came.
~ Anna Barca ~

.
Anna Barca and Giovanni Micciché
with their granddaughter Laura
.

Pietro Barca
.

with Nunzia Cangeri
Antonio Barca
.

Back: Lydia Lecomte, Sandro Micciche,
Antonio Barca,
Laura Micciche
.
Front: Elio Barca,
Loredana Barca
Giuseppe Micciché
.

with Giuseppina Verdone
and Antonina Coniglio
Vito Micciché
.

Jonathan Barca
.

Deborah Barca
.

Elio & Loredana Barca
.
Laura
.

Sandro
.

Alessio
.


Antonio, Dana & Casian Barca

Casian Barca

Casian - 2016

.
Carmela Coniglio died as a child 1933 - 1936
.
Eugenio Coniglio
1937 - 1999
married Maria Munafo

About 1949

About 1985

Children of Eugenio and Maria are Antonio and Giuseppina
.

Altre foto (Other photos)

Giuseppina Verdone
Antonio Barca, Pietro Barca
Giuseppe Micciché (infant)
~ about 1970 ~
Giuseppe Micciché
and children at Disneyland
Raimondo Coniglio
and Giuseppina D'Amico

2005 Christmas Greetings from our Belgian cousins. (click to enlarge)

From Antonio Barca and family.

From Laura and Sandro, children of Giuseppe Micciché.

From Anna Barca Micciché, Giovanni and Vito.

.
Giuseppe Micciché's home.
Giuseppe's rabbit.
Casian Barca
Five months ~ September, 2009
Casian
December, 2009
Rita Gagliano, Anna Barca, and Vincenza Barca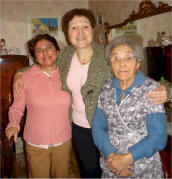 Vincenza is Vito Barca's sister. Anna is related to the Coniglios of Serradifalco; and Anna, Vincenza and Vito Barca, and Rita are related to Aunt Angie Bongiovanni Coniglio, a descendant of ancestors from Mussomeli.
Clicca per vedere questa pagina in italiano