Margherita Concetta Antinoro
.
Born: 27 October 1775 ~Serradifalco, Caltanisetta, Regnu di Sicilia
Died: 30 October 1832 ~ Serradifalco, Caltanissetta, Regnu delle Due Sicilie
Meaning of Antinoro [ahn-tee-NOH-roh]: possibly from the Greek Anthenor, a mythical Trojan
My great-great-great grandmother Margherita's baptism record and that of her sister Rosaria gives her surname as Antinoro. It is alternately given as Antinorio on her husband Giuseppe Abbate's death record and her own death record, and on the marriage records of her children. She is shown as living on the 1832 death record of her husband, and deceased on the 1834 marriage record of her son Giuseppe Abate. Because of factors probably associated with the cholera epidemic of that time, civil death records for 1831 and 1832 are missing for Serradifalco.
An epidemic struck the Kingdom of the Two Sicilies that year and almost 600 residents of Serradifalco perished, about one out of every eight people. However, the church record of her death survived, and is shown here.
Both Giuseppe and Margherita died in 1832.
From Baptismi (Baptism records)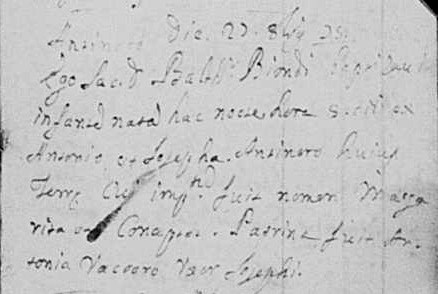 From Serradifalco Registri Ecclesiastici 2012918, 1775 Baptisms, Page 69,

Margarita Concepta Antinoro
Antinoro die 27 8bris 75
Ego Sac Balth: Biondi baptizavit
infante nata hac nocte hora 8 circ. ex
Antonio et Josepha Antinoro huius
Terre Cui impm fuit nomen Marga
rita et Concepta . Patrina fuit An-
tonia Vaccaro uxor Josephi.
Antinoro day 27 of October 1775
I priest Baltassare Biondi baptized
an infant born tonight circa hour 8 of
Antonio and Giuseppa Antinoro of this
Town. The name given the child is Margh
erita Concetta. The Godmother was An-
tonia Vaccaro wife of Giuseppe.
Morte (Church Records of Deaths)

dal Serradifalco Registri Ecclesiastici Film 2013010, Chiesa
dell'Immacolata Concezione
, 1832 Morte, f. 224, No. 532, Margherita Antinorio
Antinorio Die 30: 8bris 1832 No. 532.
Margherita Antinorio filia qndm Antonii et qdm Josephae ann 60 cir-
ca volat in Dno cuius corpus per Revdm D.Vincentius Cap. delatus fuit
in oratirio animara purgat ibique Sepultum
Antinorio Day 30: October 1832 No. 532.
Margherita Antinorio daughter of the late Antonio and the late Giuseppa, about 60 years
flew to the Lord; her body was moved by Rev. D.onVincenzo Chaplain to thr chapel of the souls of purgatory and buried there
from Serradifalco Ecclesiastical Registers Film 2013010,

Church of the Immaculate Conception

, 1832 Deaths, P. 224, No. 532, Margherita Antinorio
Margherita Antinorio married Giuseppe Abbate

Known Children
..
Giuseppe Abate: about 1803 - 29 Mar 1869 (Married Rosa Saetta)
Vincenzo Abate: about 1816 - 18 Sep 1823
Giuseppa Abate: about 1817 - 10 May 1865 (Married Santo Degli Uomini)