Angelo Mont'alto*
.
Born: Unknown
Died: before 1824
Meaning of Mont'alto (also Montalto) [mohnt-AHL-toh]: high mountain
*It was also sometimes given as Montante [mohn-TAHN-teh], which in Italian heraldry,
means 'upright' or 'vertical'. It also may mean 'mounted', as on a horse.
I have not found any records of baptism, marriage or death for my great-great-great-grandfather Angelo Mont'alto, but I know his name from baptism, marriage, and death records of his offspring, including Pietro, whese baptism record is shown below. His death was before the 1824 marriage of his daughter Giuseppa Montalto.
From Baptismi An. 1779 (1779 Baptism records)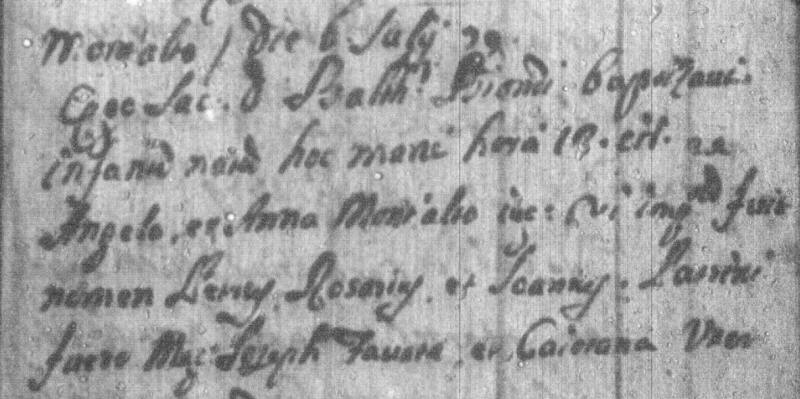 Mont'alto / die 6 Julij 79
Ego Sac. d Balthr Biondi baptizavi
infantum natus hoc mane hora 13 ~
Angelo et Anna Mont'alto jug. illi impm fuit
nomen Petrus, Rosarius, et Joannes: Patrini
fuere Mag. Joseph Favara et Gaetana uxor
Mont'alto / day 6 July 1779
I, Priest Balthassare Biondi baptized
an infant born this morning at hour 13 of
Angelo and Anna Mont'alto, married. He was
named Pietro Rosario Giovanni: Godparents
were Maestro Giuseppe Favara & Gaetana, his wife
From Serradifalco Registri Ecclesiastici Film 2012918, 1779 Baptisms, p. 322, Petrus Mont'alto
Angelo Mont'alto married Anna Mineo

Known Children

Paolina Montalto: about 1752 - ? (Married Ciro Insalaco)
Gaetano Filippo Montalto: 27 Mar 1760 - ?
Calogero Montalto: about 1762 - 9 Feb 1824 (Married Caterina Taglialavore)
Giuseppa Montalto: about 1772 - 22 Mar 1824 (Married Gaetano Coniglio; ancestors of Angelo Felice Coniglio)
Giuseppe Montalto: 18 Sep 1775 - 28 Dec 1832 (Married Concetta Cordaro; ancestors of Michele Nicosia)
Pietro Rosario Giovanni Mont'alto: 6 July 1779 - aft 1850 (Married Giuseppa di Francesco; ancestors of Bill & Carl Montante)