Mary Lanza
(Maria Lanza)
Born: 26 April 1913 ~De Lancey, Pennsylvania
Married: 21 January, 1936 ~ Buffalo, New York
Died: March 16, 1993 ~ Amherst, New York

Meaning of Lanza (LAHN-zuh): from 'lancia', lance
Maria 'Mary' Lanza was baptized at the Church of St. Adrian in De Lancey (formerly Adrian) Pennsylvania, on the first of June, 1913. The Church of St. Adrian still exists as a building, but the parish no longer exists, and the building is now a Mission of the Ss. Cosmas and Damian Church of Punxsutawney, Pennsylvania.

Contacted in 2015, 'Jean' from that church's office provided me with a photocopy of the register containing the baptismal record. That record is shown below. Some explanation is necessary. The record was written in Latin by a Polish priest.

The given names are in Latin, while the surnames appear to have been written phonetically, with Polish spelling. 'Maria' is the same name in both Latin and Italian, and also in Polish ('Mary ' in English). Later copiers of the record evidently assumed the original name was Mary. Since her mother and father, and godparents, were all Sicilian with little proficiency in English, it's virtually certain that they gave the priest the infant's name as Maria. It can be seen that both her father's and godfather's given names were originally written as 'Samuel', then written over as Salvatore, or vice versa. Paolina Bellanca's given name was also spelled in the Latin form, 'Paulina'.

Below the record is a transcription of the information just as it was written in Latin/Polish, and below that are the entries as they should have been. 'Junii' is Latin for 'of June'. The variations in the names are examples of how names may be misspelled and modified after repeated copies are made.

383

Maria Lanso

26 Apr. 1913

Junii 1
1913

Salvatore Lanso
Paulina Belanka

Samuel Turzeo
Maria Genko

J. N. Z

Maria Lanza

Salvatore Lanza
Paolina Bellanca
Salvatore Tuzzeo
Maria Genco
Maria's original baptismal certificate is not available, but during her life, she received three extracts copied from the original register. They are reproduced below, with notes. In each, Maria's name is given in its English form. Below them is a 'mock' certificate in English, containing corrected names.
Copy made 14 November 1933




"Samuel Lanza"
is incorrect

Paulina Belanda"
is incorrect




"Salvatore Tuzero"
is incorrect

"Mary Gento"
is incorrect
Copy made 6 January 1936
(Probably for her 21 January 1936 wedding.)

"Paulina Belanda"
is incorrect

"Samuel Tuzzeo"
is incorrect

"Mary Genta"
is incorrect
Copy made on 11 January 1943


"Pauline Belanso"
is incorrect




"Salvatore Trunzo"
is incorrect

"Mary Lanto"
is incorrect
Reconsituted Certificate of Baptism

Church of St. Adrian Baptisms, Volume 3, Page 38
De Lancey, Pennsylvania, 1 June 1913

I, Reverend Joseph N. Zubrzycki
today baptized Maria Lanza, born 26 April, 1913
daughter of Salvatore Lanza and Paolina Bellanca

Godparents were Salvatore Tuzzeo and Maria Genco

[Note: Salvatore Tuzzeo and Maria Genco were man and wife,
and were relatives of the Lanza family from Mussomeli, Sicily.]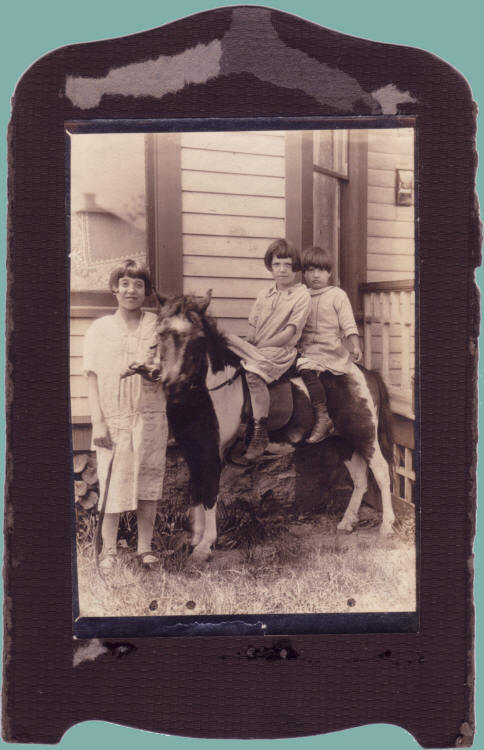 Mary, Josephine (Jessie), and Salvatrice (Teresa) Lanza
~ Probably at 126 Front Street, Buffalo in about 1925 ~
January 21, 1936
Unknown Unknown Angie Lopresti Joseph Giullari
Mary Lanza Sam Bongiovanni
Mary Lanza Bongiovanni
& Sam Bongiovanni ~ 1944

Mary, Angie & Sam Bongiovanni
~ 1944 ~
.

Sam and Mary Lanza Bongiovanni
1984
Last revision: 22 April 2015 ~ Angelo F. Coniglio, ConiglioFamily@aol.com